These adorable "bunny ear" baby hats are super soft, very cute, and come in assorted striped colors.

These hats and our alpaca scarves are made by women in Bolivia, many of whom have been abandoned by their husbands. Caring for their children in the high reaches of the Andes means these women knit lots of kids hats!
Handmade and Imported from Bolivia.
Spirit of the Andes
Bolivia
Spirit of the Andes is a non-profit Bolivian organization founded by Marina Claros, Mimi Woodbridge and Mick Huerta to generate sustainable incomes for some of the poorest women in the Western Hemisphere living in rural and urban areas in Bolivia.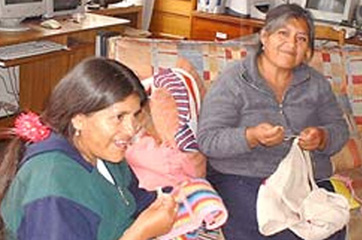 Through free courses provided by Spirit of the Andes, women, often abandoned by their husbands and with children to care for, are taught to knit at an expert level and can then be certified as professional knitters by the Bolivian Ministry of Trade and Commerce. This provides the women with a valuable skill and allows them to earn fair compensation for their work.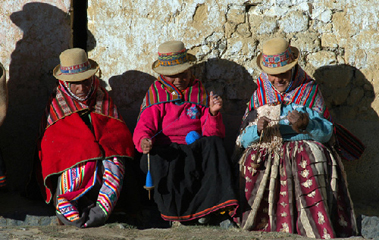 An important aspect of Spirit of the Andes is that no costly equipment is needed, no change in lifestyle is required, nor is there any negative impact on the environment. Great respect is shown to the women and to the unique world in which they live.

Products of Spirit of the Andes can now be found in the finest stores in Bolivia and in high-end stores in the United States, Canada, Great Britain, Spain, Italy, France, Sweden and Japan.
All the money received from the sale of Spirit of the Andes products goes directly to the support of the women and their families. The women are very proud to knit products of the highest quality for you and are thankful for your interest in their work.