These hand crocheted coin pouches come pre-filled w/ Guatemalan money (1 Quetzal); making them a unique gift for many. It's a great way to safely carry coins, bills, and credit cards in your pocket without losing them.
These are crafted by artisans at De La Selva. De La Selva, has been working with Guatemalan artisans for over 20 years and providing them with the right kind of markets.


Rectangular or Round


Colors are Assorted


Each display comes with 24 Coin Pouches


Handmade in Guatemala and fair trade imported.
De La Selva Artisan Story

Guatemala
"From The Mayan People To You" – De La Selva, located near La Antigua in San Juan del Obispo Guatemala, is a producer and global exporter of high-quality Mayan and Guatemalan handicrafts. The organization began its journey as an exporter of Guatemalan handicrafts in 1991 and after 19 years of hard work, team support, and market development, the company has evolved to approximately 35 staff members who work from the main office situated in San Juan del Obispo.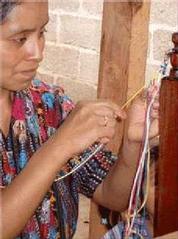 De La Selva works with artisans from all over this diverse country; each artisan is known for making a specific handicraft. Some of their popular product lines include the Mayan worry dolls, crochet stress balls, glass beaded jewelry, woven friendship bracelets, and miniature ceramics.
Apart from being a successful craft exporter, De La Selva plays other important roles in the lives of these artisans and their communities. Most importantly, the organization provides a market to artisans for their crafts which helps to supplement the income they receive from farming. De La Selva also partners with donors and developmental agencies from all over the world to make a difference in the socio-economic status of it's producer artisans. Through various efforts, De La Selva has been able to achieve commendable results in providing basic infrastructure for far flung communities in Guatemala where their artisans reside including: local school facilities, cleaner drinking water, waste management, and other services. The journey does not end here and there are many more parallel developmental projects that the organization is working around. The De La Selva team along with it's many supporters dream of making these indigenous communities self-sufficient so that they and their families are able to lead a better life.