This cute owl keychain will be the talk of all your friends. It's a perfect security guard for your house keys, car keys, and all those things that you treasure. Each gourd is skinned, cleaned and sundried before its surface is etched and burnt with the intricate designs that adorn its surface. Not only will it make a Hoot of an impression but its useful and a gift for owl lovers.
Measures 2-3/4" high x 2" wide diameter at base 
and hangs 3-3/4"
Handmade in Peru and Fair Trade imported.
Peruvian artisans have practiced the art of gourd-carving for more than 4,500 years, transforming a simple squash into intricately designed bowls, boxes, windchimes, birdhouses, purses, vases and other bits of home decor. The twin villages of Cochas Grande and Cochas Chico, where our artisans Raquel and Esperanza live, work and run gourd-carving workshops to create local jobs, are the center of this ancient art.
Over the centuries, artisans have found unique ways to craft gourd decor, including scratching, fine-line hatching, pyroengraving and carving. Naturally, the details and designs have changed, but contemporary artisans remain inspired by Peru's rich traditions.
The Process of Gourd Carving

After the gourds are harvested, the artisan removes the outer green skin with a dull knife to expose the lighter brown color underneath. This will become his/her canvas. The gourds are cleaned and dried in the hot Peruvian sun.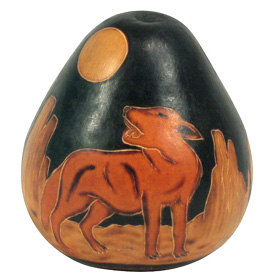 After drying, the artisan draws his/her initial design in pencil, then uses a carving tool to remove small pieces of gourd, creating a 3-dimensional version of the original design. Next, the artisan burns the pattern with a glowing ember, usually a feather-shaped piece of Quinual wood that's been heated over a fire, to establish contrast between the carvings and the gourd. The artisan can vary the intensity of the heat by blowing on the ember; the harder the artist blows, the darker the burn.

Having obtained the color, the artisan washes the gourd to remove
the pencil marks and polishes the finished piece with a natural wax. Sometimes, the artisan applies an oil/charcoal mixture to the gourd's carved surface. The dye adheres any part of the gourd where the outer skin has been removed, yet wipes clean from the gourd's smooth surfaces. This is why some carved gourds have a black background
.