These happy working people finger puppets are woven in bright realistic colors and make for great role playing games with children. Each is skilfully crocheted by women artisans of Manos Amigas using techniques that can be traced back generations for more than 3,000 years.


Each puppet measures 4" high X 2" wide


Styles include: Postman, Fireman, and Black & White Construction Worker, Man & Woman Couple


Handmade, Fair Trade and Imported from Peru.
Manos Amigas Artisan Story

Peru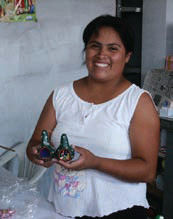 Peru's native Shipibo tribes are known for their strong cultural heritage, unique cosmology and their unmistakable ceramic arts. Unfortunately, Shipibo villagers also suffer from extreme poverty, and most live without access to basic education and medical care in poor villages along the Río Ucayali, a tributary of the Amazon River. Manos Amigas (Friendly Hands) works with the Shipibo villagers to develop their traditional craft and helps export their vases, sculpture and ornaments to the United States and Europe. Manos Amigas also offers free courses in design, accounting and business marketing and helps artisans identify new markets for their crafts.
Manos Amigas donates 20% of its profits to education and other social programs and helps youth living in Peru's remote highlands continue their education through scholarships and financial assistance. The remaining 80% of the Manos Amigas' profit goes directly to the artisan, most often as a 50-70% advance with the balance paid upon delivery and quality control. This wage is far above the national standard and helps Shipibo villagers improve their standard of living and provide for the future.