Perfect for Easter and year-round, this adorable family of Bunny Rabbits would love to be adopted by you and your family. Each rabbit, brother & sister, mother & father, and grandmother are handmade from abaca fiber. The women of this bunny family wear bows in their hair and dresses also made of abaca. You can tell this is a hard working family, caring baskets woven of abaca fiber or huge carrots that they will cook and eat for dinner. Except for Father rabbit who lazily sits on his throne of nito vine directing the others to go about their tasks.


Depending on the rabbit, they range between 10" and 15" tall


Each is handmade in the Philippines and Fair Trade imported.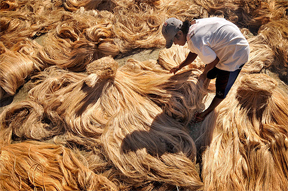 The Abaca plant is a close relative of the banana. It's known for its strong fiber, that is extracted around the trunk of the plant, and for its many uses in the production of paper, tea bags, ropes, coarse bags, clothing, curtains, and home furnishings. Abaca is also known as "Manila Hemp" and years ago, gave rise to what we know today as Manila Folders, because they were originally made from Abaca.
The Philippines is the world's leading producer of abaca; it produces 85% of the world's fiber. On these islands, it is also benefiting by helping to rehabilitate degraded forests and to prevent soil erosion. A year after replanting abaca, it propagates and is ready to harvest and to be replanted to continue conserving the area's rich bio-diversity and to mitigate climate change.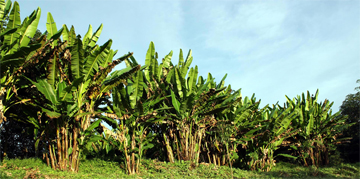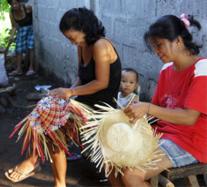 The artisans of Disenio de Craftico are fathers, mothers, young men and women who are able to help their families through the production of these crafts. They live near Lagazpi City in the Bicol region of the Philippines. Most are hand-to-mouth workers.
Using abaca fibre, nito vine and other sustainable materials, they create beautiful native handcrafts which are sold to create a livelihood for their day-to-day needs, lessen the poverty in their community and strengthen family ties.